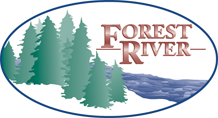 Forest River believes everyone should be able to experience the vast beauty of Mother Nature. This drives their mission to provide Forest River owners with quality, dependable products. Forest River recreational vehicles provide the perfect venue to explore the Grand Canyon, Niagara Falls and everywhere in between.
MAC Series
MAKING YOUR INVESTMENT GO A LONG WAY. Flagstaff takes pride in packing the most value possible into our MAC series. Finding the perfect fit for the specific needs of your active family is made easier by the wide variety of floor plans available. While each model comes standard with many features, you still have flexibility to incorporate as many options as you choose to fit your camping preferences.
Classic Series
A PROVEN TRACK RECORD MAKES THIS UNIT A CLASSIC CAMPER. Year in and year out the Classic series consistently delivers with outstanding features and styling to enhance your camping experience. The swing down galley and standard power lift make the Classic a breeze to set up. The expansive seating throughout the camper gives everyone plenty of room to sit and enjoy themselves.
High Wall Series
IT'S YOUR VACATION. WHY NOT GO OUT IN STYLE? The Flagstaff High Wall campers are perfect for those families who want the luxurious features of a travel trailer in a much lighter towable option. The rich maple colored cabinetry, stainless steel finishes and beautiful wood grain-look flooring puts this camper in a class of its own.
Gallery